Nouveau vinyle "Music Box"
Finally Matah - "Music Box" on 7" vinyl and with the Dub version by Chalart58, exclusive on vinyl and Bandcamp!
Bandcamp link / Discogs Link
New single "Fire Inna Streets" Chalart58 ft. Manu Chao, High Paw, Joseph Blanes
Producción: Manu Chao / @Chalart58
Vocal: Manu Chao / High Paw
Trombón: Josep Blanes
Grabado: en La Panchita Studio y Malandro studio
Master: Xavier "Lek" Farré
Diseño: Ivan Peñalba, Manu Chao
© 2020 Radio Bemba / LaPanchita Records
New single "Twinkling Star"
Check this out ! Matah : Nouveau single & vinyl - Music Box
Vocals: Matah
Production: Chalart58
Mastering by Xavier "Lek" Farré
Link a todas plataformas 👇🏽
https://orcd.co/matah-twinklingstar
Link to all platforms ☝🏽
New single "Destroy Babylon"
Awa Fall & Chalart58 - Destroy Babylon (La Panchita Records, 2020)
https://orcd.co/avy5dma
Listen online or download 👆
© La Panchita Records, 2020
Chalart 58 & Women Soldier is a collective project bringing together the most talented and promising feminine artists of the Spanish reggae-dub scene around the producer Chalart58, creator of " La Panchita Records" label.

A fresh and innovative project, which highlights Spanish dub productions and all the diversity of its members and their influences.
On stage, this group of crazy and communicative energy offers a real "live dub" constantly renewed and where different sounds ranging from reggae-roots, to hip-hop, through rubadub and soul make every crowd dance!
Their latest project : in 2022, March 10th, the "Women Soldier Mixtape" is released with Belén Natalí, Matah, Awa Fall, High Paw, and Chalart58 to the riddims!
More Info
Originally from Barcelona, Chalart58 already has a long musical career behind him. Percussionist, reggae music producer, former drummer of La Kinky Beat, he has also collaborated with artists such as Fermin Muguruza but also Manu Chao on numerous occasions.
He is also the creator of the La Panchita Records label. This label which, far from the elitism and dynamics of the mainstream industry, aims to bring the genre closer to a large audience, has become the benchmark of Catalan reggae and dub.

Chalart58 has been a recognized figure in the Dub scene in Spain for several years now, and after releasing several pieces that have proven their worth in sound system, he released his first solo album "Geomètric Dub" (2018) on his label.
The name of the project Women Soldier, comes from the track "Woman Soldier" released in 2017 by Chalart58 and Belén Natalí. Subsequently, the Dub Academy decided to bring together the feminine artists Awa Fall, Matah, Belén Natalí, High Paw around Chalart58 to perform at Rototom Sunsplash in 2017, and at the International Dub Gathering in 2018.
Following these sessions which have been a real success with the Spanish public, the idea was born of bringing together these feminine artists around an album with productions created for each of them by Chalart58. In 2018, the album "Chalart58 & Women Soldier", produced and mixed by Chalart58, was released on La Panchita Records. We find there both the identity of the producer, a controlled and sharp digital dub, but also the essences and influences of each of the performers, who reveal their respective personality and colors on each tracks.
Since then, the collaborations between Chalart58 and these artists have consolidated and many singles have been released such as: "International" with Matah, "Destroy Babylon" with Awa Fall, "Fenda a Fenda" with High Paw or even "Fire Inna Streets" with Manu Chao, High Paw and Joseph Blanes.

A committed collective, these artists also defend the causes that they care about, in their songs but also on stage with impactful lyrics.
On stage, this pure energy training brilliantly combines the personalities and styles of each of its members present. The result is modern, dynamic and powerful "live dub", which go from roots, through rubadub to dub UK, constantly renewed.

Still with nice surprises planned for 2022, Women Soldier will be back on the road to European dances in 2022!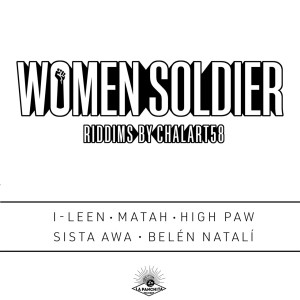 Chalart58 & Women Soldier - Women Soldier
2018 /
On My Mind - Matah, Chalart58
Good Ova Evil - Sista Awa, Chalart58
Lyrics Designer - High Paw, Chalart58
Chase Dem I-Leen, Chalart58
Kings Artifacts - Belén Natalí, Chalart58
On My Mind (Dub Version) - Matah, Chalart58
Good Ova Evil (Dub Version) - Sista Awa, Chalart58
Lyrics Designer (Dub Version) - High Paw, Chalart58
Chase Dem (Dub Version)- I-Leen, Chalart58
Kings Artifacts (Dub Version) - Belén Natalí, Chalart58
Chalart58 - Geometric Dub
2018